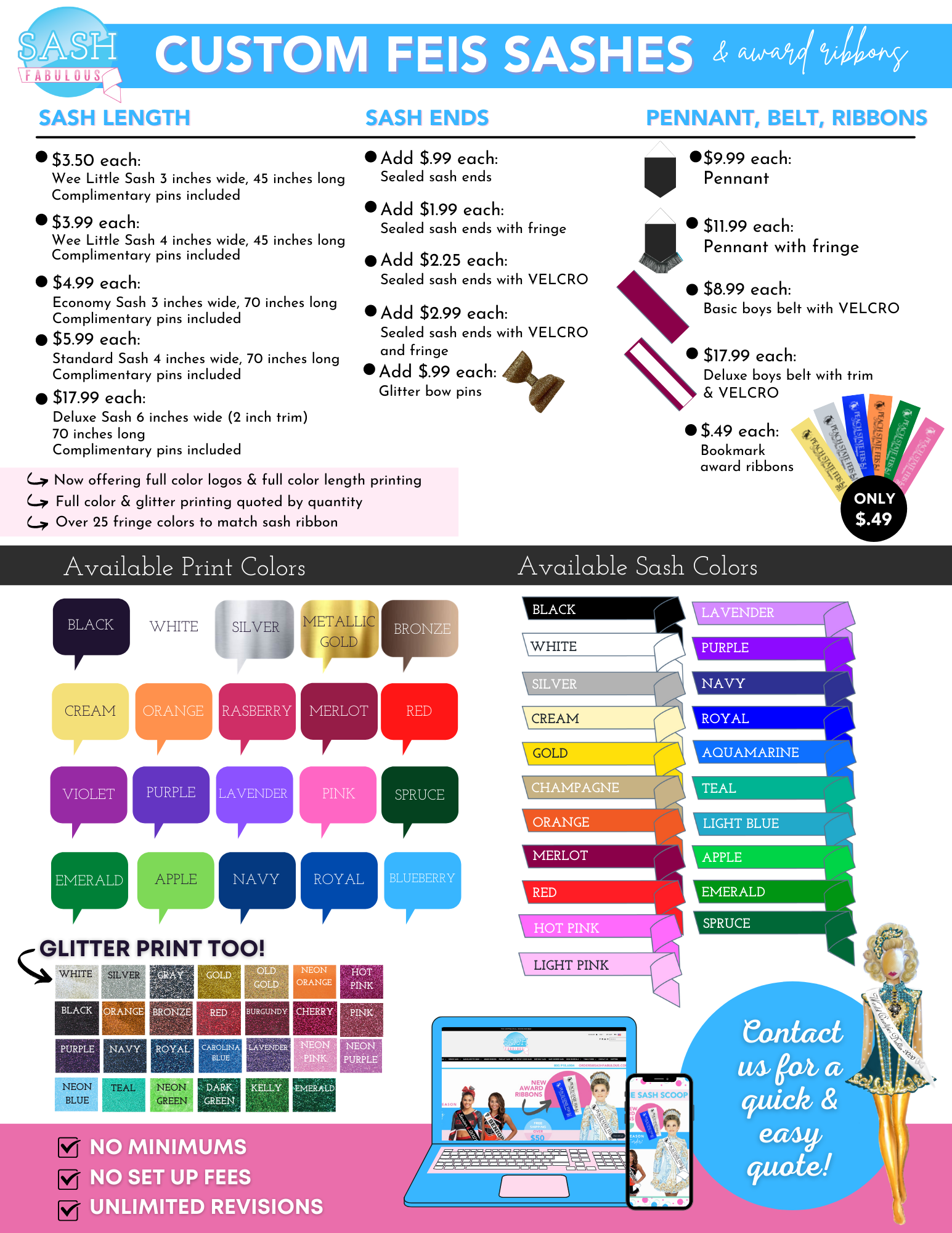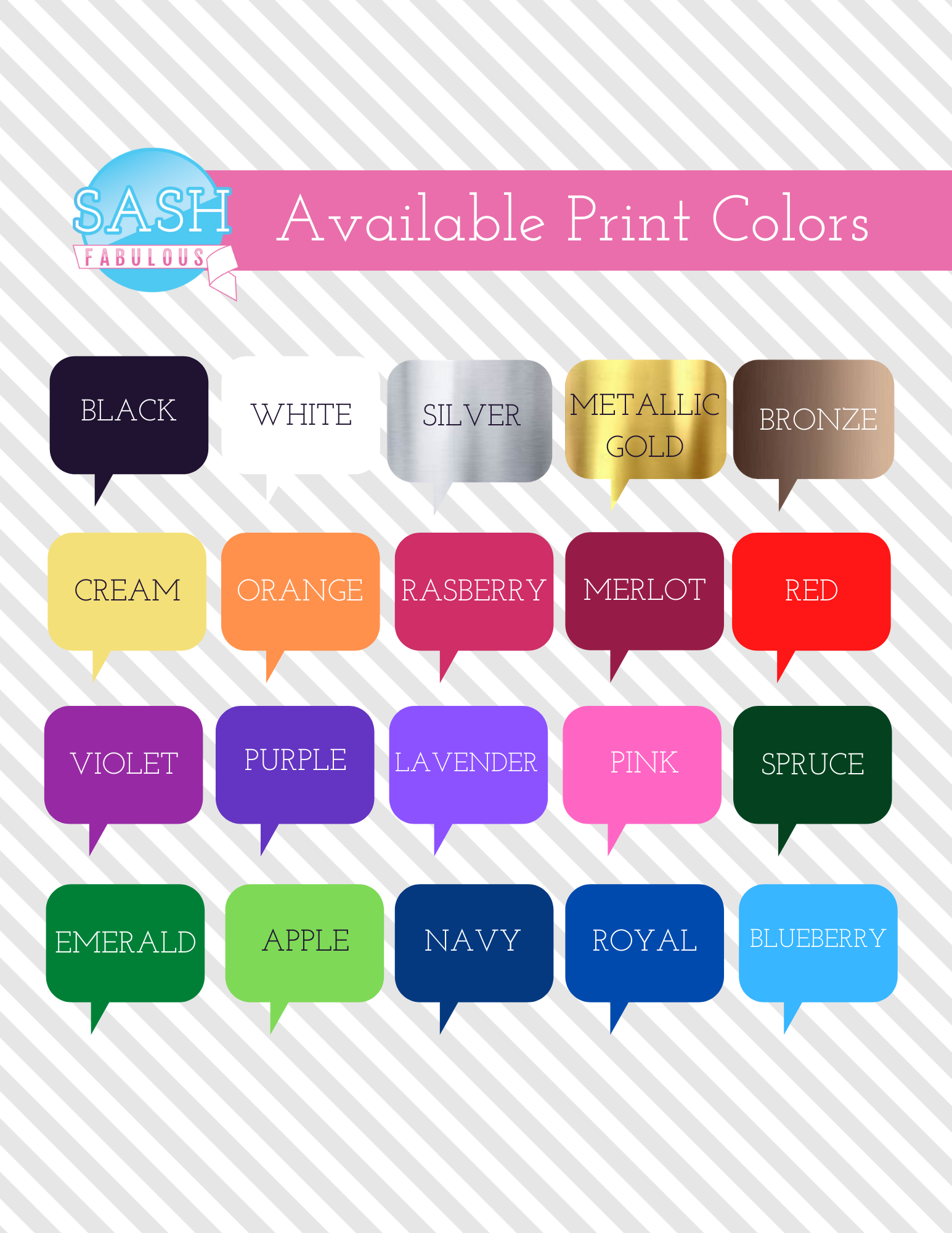 SashFabulous
Irish Dance CAMP Sashes
It's CAMP TIME! We are introducing our CAMP SASHES to add some fun to your summer dance events.
Please choose the sash design(s) you like and leave them in the notes section.
<<<<<<<<<<<<<<<<<<<<<<<<<<<<<<<<<<<<<<<<<<<<<<<<<<<
110% Effort Award
Abracadabra Award
Academy Award
All-Around Camper Award
Better Late Than Never Award
Big Picture Award
Busy Bee Award
Camp Clown Award
Camp Cosmetologist Award
Camp Crazy Award
Can Do Camper Award
Care Bear Award
Celebrate Success Award
Celebration Award
Comedian Award
Compassionate Camper Award
Cool Cat Award
Crazy About Camp Award
Curious George Award
Dancer Achievement - Birds
Dancer Achievement - Carriage
Dancer Achievement - High Toes
Dancer Achievement - Overs
Dancer Achievement - Rhythm
Dancer Achievement - Rocks
Dancer Achievement - Scissors
Daredevil Award
Double The Fun Award
Early Bird Award
Easy Going Camper Award
Energizer Bunny Award
Extra Mile Award
Follow and Focus Award
Funny Bunny Award
Future Counselor Award
Future Star Award
Giddy Giggler Award
Goofy Gal Award
Goofy Guy Award
Handy Helper Award
Happy Camper Award
Hear of Gold Award
Hot Tamale Award
Just Do It Award
Leadership Award
Little Miss Sunshine Award
Master Dancer Award
Most Helpful Award
Most Improved Award
Most Improved Award
Peace and Love Award
Peacemaker Award
Pep In That Step Award
Piece of the Puzzle Award
Positive Attitude Award
Positive Camper Award
Problem Solving Award
Quick Learner Award
Sharing and Caring Award
Side by Side Award
Social Butterfly Award
Soft Spoken Camper Award
Spic and Span Camper Award
Spirit of Camp Award
Super Star Award
Super Trooper Award
Sweet Tart Award
Teamwork Award
The Survivor Award
Triple Threat Award
Truth Teller Award
<<<<<<<<<<<<<<<<<<<<<<<<<<<<<<<<<<<<<<<<<<<<<<<<<<<
Our production team will get back to you right away with a digital mock up per your color selections. ~We only print after the final art proof is approved.
Our sashes are made with premium satin ribbon and measure 4 inches wide by 70 inches long. Sashes are pinned at the hip or we will seal the sashes for you. If you choose to pin the sashes, we send complimentary pins for you. Please see price sheet for current sealed end options!

Each sash is printed with our professional printing machines. Matte print is available along with metallic foil print.
Logos may be uploaded for your sash at no extra cost! Please upload you log in an art file format .AI .PSD .EPS or .PDF to Orders@Sashfabulous.com
Single faced, cut edge satin
Water resistant and washable
Tested in both the washer and dryer